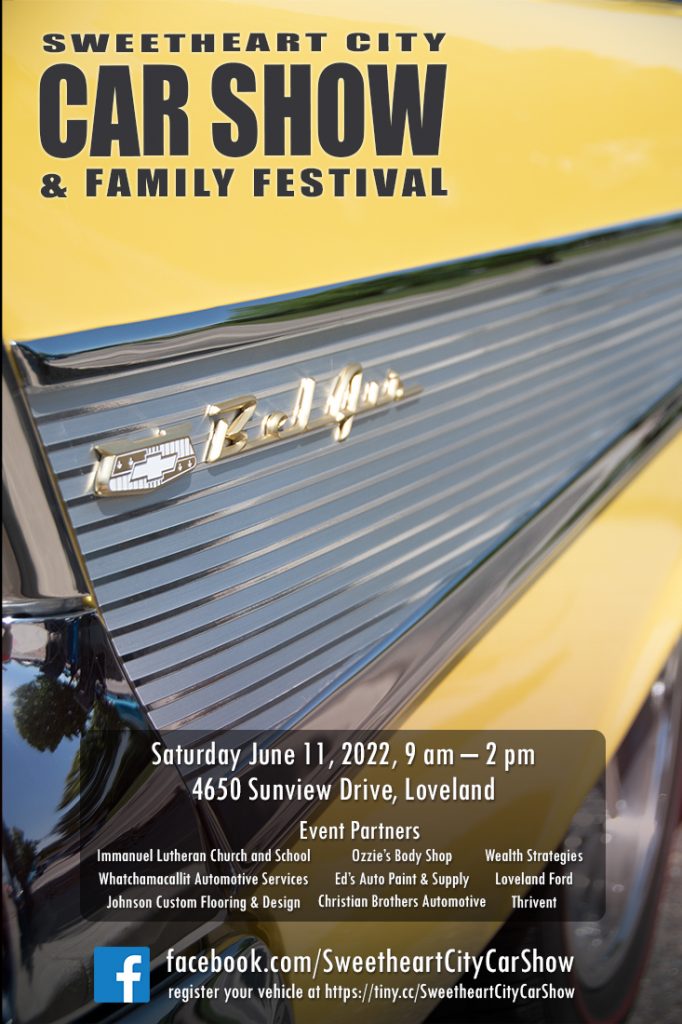 Immanuel Lutheran Church & School is excited to again be hosting the Sweetheart City Car Show! On Saturday, June 11 from 9am-2pm, there will be a fantastic assortment of vehicles, from Model A Fords to brand new Teslas! We partner with local non-profits that help single moms and widows, and we have a car care event in conjunction with the car show to help them with their car care needs. All proceeds from the event go to pay for car repairs through cooperating local businesses. There is also food, a silent auction, and many fun activities for kids. Don't miss out!
Pick up a registration card (or two or three!) from the table in the atrium – if you know anyone with a classic car, give them a registration card and ask them to bring their vehicle to the show. You are also encouraged to pick up a glossy car show flyer from the table in the atrium and ask to post it on various community bulletin boards or in a store shop windows (always with permission!). In a few weeks, there will be "invite a friend" cards available for you to give to your friends, neighbors, and others to invite them to the fun.
We are also looking for people for the following roles, which are all critical to the success of the event. If you're interested in any of these or if you have questions about them, please contact the church office (churchoffice@immanuelloveland.org, 970-667-4506).
Help with Car Care – You don't need to be a licensed mechanic to be able to help with this important part of the Car Show; simply work through a check list and work with the lead mechanic on the inspection process.
Post-event Client Care Coordinator – Work with our car care clients, the car care team, and our professional car service providers to ensure that all clients get timely and complete car care service and that car care providers are paid promptly.
Silent Auction Coordinator – Work with the donations team to plan and execute a silent auction at the car show. This part of the event can help us raise several thousand dollars to help with the car care we provide to single moms.
A/V/Internet Coordinator – Make arrangements for sound systems for the various aspects of the event and ensure that we have internet access in the southwest parking lot for the car care operation.
Facilities Coordinator – Form and lead a crew to perform necessary set up (tables, canopies, marking the parking lot, putting out trash cans, etc.) before the show and cleaning everything up after the show.
Donation and Volunteer Sign-Up Opportunities. https://signup.com/go/VeVfGqS