Join us Sunday mornings from 9:30-10:20 for our Education Hour.
For Children
Sunday School
For all children in Preschool through 6th Grade
Join Miss Martha in the Children's Ministry Room (#113) for singing, a Bible lesson, crafts, activities, and, of course, fun!
Want more information? Contact Miss Martha at
For Youth
Middle School
Red Letter Challenge - Middle School students will join the High Schoolers for the Red Letter Challenge in the Youth Room (#201). To learn more about RLC, click here.
At the conclusion of RLC, Middle Schoolers will begin Confirmation classes.
High School Bible Study
Red Letter Challenge - High School students will be participating with the Middle Schoolers in the church-wide Red Letter Challenge in the Youth Room (#201). To learn more about RLC, click here.
Want more information? Contact Marcus, our Youth Director, at mhoward@immanuelloveland.org
For Adults 
Red Letter Challenge
Five of Immanuel's Red Letter Challenge small groups will be meeting during the Education Hour.  Room assignments for each group will be on signage when you enter the Atrium.  Groups will be meeting in the conference room as well as rooms 112, 205, 207, and 209.  Find out where YOUR group is meeting by checking the signage or by contacting Pastor Robin (rdugall@immanuelloveland.org). Looking for more information about the Red Letter Challenge? Click here!
Strange New World: How Thinkers and Activists Redefined Identity and Sparked the Sexual Revolution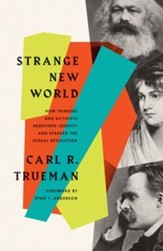 Written by Carl R. Trueman and facilitated by Joe Sarr, this study will ask "How did the world arrive at its current, disorienting state of identity politics, and how should the Church respond?" Historian Carl R. Trueman shows how influences ranging from traditional institutions to technology and pornography moved modern culture toward an era of "expressive individualism." Investigating philosophies from the Romantics, Nietzsche, Marx, Wilde, Freud, and the New Left, he outlines the history of Western thought to the distinctly sexual direction of present-day identity politics and explains the modern implications of these ideas on religion, free speech, and personal identity. This class will be nine sessions walking through each of the book's chapters, summarizing key points and giving biblical application of the key themes. Each class will be accompanied by a 10-12 minute video covering one chapter from the book followed by a discussion using the Strange New World Study Guide. Join us Sunday mornings in Room 36.
Book of Isaiah
Pastor Al is leading a study on Isaiah, sometimes called the Gospel of the Old Testament, or the Fifth Gospel. This study will be held in the church library on the second floor.
What do you think God is up to in this world in our time? Is God behind all the confusion and division? What may be his purpose? Do we, that is, the Christian Church, have something to do in God's plan? We are learning from the Book of Isaiah how the God of the universe works among the nations and peoples. We see God in action in that time in history.
What can we learn from the experience of God's people Israel? They were God's church in their time. They looked eagerly for hope, and it would come with Jesus. The Bible, in Old and New Testament, tells the story of what God has done through the ages. Here we also learn what Jesus, Son of God and our Redeemer, has done for the world for all time. Jesus is Lord of all, yes, in our time! The Holy Spirit has now bound us into God's Story of engaging with the course of human events. We have been bound in by the Sacrament of our Baptism. We engage with the Lord every time we celebrate the Lord's Supper. We belong to the Christian Church where we find fellowship and spiritual nurture and hope! See how God operates as we study this great prophet.
Want more information?
Reach out to our Church Office at churchoffice@immanuelloveland.org
Sunday Morning Adult Education Recordings
Immanuel 101
Pastor Glen's next Immanuel 101 class will be starting on Sunday, October 30th. This class will provide an opportunity to learn more about what we believe and teach here at Immanuel as we cover some of the basic foundational elements of our ministry together. This is open to people new to Immanuel as well as those who would appreciate a refresher in the basics of our Christian faith.
Led by Pastor Glen in Room 36.
Want more information?
Reach out to Pastor Glen at gschlecht@immanuelloveland.org
REGULAR SUNDAY MORNING SCHEDULE 
Classic Grace Worship - 8:00am
Education Hour for all ages - 9:30am
Contemporary Joy Worship - 10:30am
SUMMER WORSHIP SCHEDULE 
Classic Grace Worship - 8:00am
Outdoor Contemporary Joy Worship - 9:30am
No Education Hour during the Summer
Have questions for us? Ask!
Follow us on Social Media!