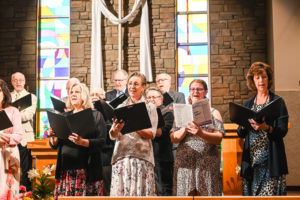 Immanuel has a thriving and exciting Worship and Music Ministry! It is a place to grow in your understanding of worship, a place for using your gifts in service, and a place to develop close friendships. Many vocalists and instrumentalists are needed to provide leadership in worship. Whether you are a child, youth, adult, vocalist, instrumentalist, actor, artist, or technician, there is a place for you!
If you would like to share your God-given musical talents, please contact Kathy Schlecht (Immanuel's Director of Worship and Music Ministries at kschlecht@immanuelloveland.org or 970-667-4506) about where you might like to plug-in to the Music Ministry. Below is a brief description of what is currently available at Immanuel:
Spirit Sounds is our worship team that leads the congregation each Sunday in our Contemporary Joy worship service. Rehearsals are at 8am Saturday morning September through June, 8:15am Sunday morning July and August. Band members and vocalists participate on a rotating basis.
Chancel Choir is a classical choir for high school students and adults. In addition to Sunday participation in the 8am Classic Grace service, this choir prepares a Christmas musical and participates in Holy Week and Easter worship. Rehearsals are on Wednesdays at 7pm in the sanctuary.
Instrumentalists — brass, woodwinds, string players, and percussionists — participate in festival worship services and other occasional services. If you are an instrumentalist and would like to be added to the email list to receive information on these opportunities, please contact Kathy Schlecht.
Children's Handbell Choirs

Bell Bottoms is a children's handbell choir for younger, newer handbell ringers, beginning in 2nd grade. They meet on Wednesday afternoons in the sanctuary from 5:40-6:00pm and ring for worship on an occasional basis. Students need no prior musical experience to participate.
Radical Ringers is a children's handbell choir for older, experienced handbell ringers. They meet on Wednesday afternoons in the sanctuary from 5:15-5:40pm and ring for worship on a regular basis.

High School/Adult Handbell Choirs - there's room at the table for you in an Immanuel handbell choir! Whether you're a beginner or a handbell ringer in hiding, consider joining in the camaraderie of a handbell choir.

Ring Joycers is an adult handbell choir that meets on Monday evenings to prepare music for worship and to fellowship together. Ring Joycers is a three-octave choir that rehearses on Mondays at 5:00pm.
ROCKn Ringers is our youth/adult handbell choir which meets Sundays at noon. This five-octave handbell choir rings for Sunday morning worship and participates in festival worship services.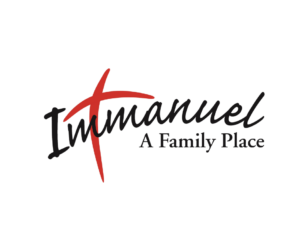 REGULAR SUNDAY MORNING SCHEDULE 
Classic Grace Worship - 8:00am
Education Hour for all ages - 9:30am
Contemporary Joy Worship - 10:30am
SUMMER WORSHIP SCHEDULE 
Classic Grace Worship - 8:00am
Outdoor Contemporary Joy Worship - 9:30am
No Education Hour during the Summer