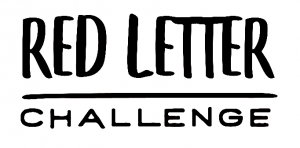 Here at Immanuel, we believe that following Jesus should be a grace-filled, practical, and straightforward journey shared in relationship with Jesus and our brothers and sisters in faith.  There are hundreds of books and bible studies on following Jesus, but few have proven to be practical and proven. Jesus modeled a whole life and even told us HOW to follow Him in HIS OWN WORDS (the red letters found in many Bibles). The best way to follow Jesus is simply to follow the words of Jesus.
The Red Letter Challenge (RLC) eliminates the fluff, focuses on five values of spiritual growth, and has helped thousands of people grow closer to God in only 40 days.  As a congregation and school family, we began this 40-day Discipleship project on Sunday, September 11th!  We will continue focusing our attention on the RLC through the end of October.  We are sharing this journey in SMALL GROUPS that are meeting on Sunday mornings during the Education hour AND throughout the week! You can still get a RLC book (or even join a small group) by contacting Pastor Robin Dugall (rdugall@immanuelloveland.org) or by talking to our Office staff.  Pastor Glen is preaching weekly on RLC themes (see the icons at the bottom of this page), we are having our "Bring it Home" devotionals matched up with the week's theme, in addition to the fact that over almost every person in our congregational family will be reading the books, doing the daily reflections and meeting with other Jesus followers to grow as disciples of Jesus during these 40 days.
The Red Letter Challenge is giving us an opportunity to take practical, daily next steps in reading and applying God's Word to our lives. Every day, the RLC presents us with a new challenge that will stretches and grows us on your journey.  We are praying that the RLC lights a fire or "fans the flames" of people's faith, trust in the Lord, as well as their commitment to discipleship in a manner that is not only impactful, but transformational in the life of our congregation.  We believe it's very appropriate to have a "holy anticipation" for what God can do when His people fast, pray, read scripture, engage in conversation and focus on what Jesus is attempting to do in all of our lives.  Our experience tells us that when the church is unified around the Lord and has a corporate focus on Kingdom priorities and passions, that the Holy Spirit releases a "fresh wind" of life and fruitfulness.  Let's pray together that we experience God's faithfulness and blessing in our lives as we share together in the RLC!