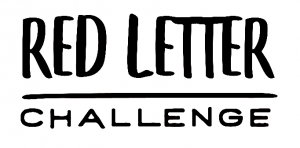 Here at Immanuel, we believe that following Jesus should be a grace-filled, practical, and straightforward journey shared in relationship with Jesus and our brothers and sisters in faith.  There are hundreds of books and bible studies on following Jesus, but few have proven to be practical and proven. Jesus modeled a whole life and even told us HOW to follow Him in HIS OWN WORDS (the red letters found in many Bibles). The best way to follow Jesus is simply to follow the words of Jesus.
The Red Letter Challenge (RLC) eliminates the fluff, focuses on five values of spiritual growth, and has helped thousands of people grow closer to God in only 40 days.  As a congregation, we are beginning this 40-day Discipleship project this fall!  We'll be sharing this journey in SMALL GROUPS that will be available on Sunday morning during the Education hour AND every day of the week!
We know what it's like to live in this world, to have success and still feel empty, still longing for something more. The RED LETTER CHALLENGE offers practical habits and behaviors for Christian living and we keep the language simple. When you join this 40-day challenge, we trust that God will grow you and give you a deeper understanding of the ways of Jesus and discover purpose and fulfillment in the discipleship journey.
Coming THIS FALL to Immanuel!  More information coming soon!